© 2016 J.L PAYAN & ASSOCIATES INC. All rights reserved.

PO Box 152 Sterling, IL 61081 

email: property@payanadjusting.com

call: (815) 441-9151  

fax: (888) 696-4495

 Illinois ranks seventh for most Tornados in the nation, averaging 35 tornadoes each year.

Hail causes $1 billion dollars in damage to crops and property each year.

Quality Services. Guaranteed. 

Contact us any time.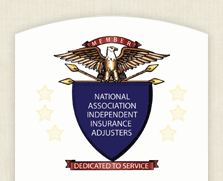 Service Area

Our service area extends throughout all of  northern and upper central Illinois.  With corporate headquarters in Sterling Illinois, and Resident Adjusters located in Rockford Illinois and Geneseo Illinois, our team has the resources to serve your needs effectively and efficiently.

Adjustment service billing is based on the closest location to the physical claim.  Our central location and team of qualified property adjusters allows us to fully and professionally service the entire North Central Illinois region. 

Aerial Roof Reports

We are pleased to announce the

introduction of our newest 

product.  We now offer detailed 

roofing reports including aerial

imagery and indepth measurements. Please contact us for more information!